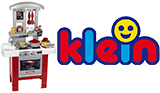 Klein
Founded in 1949, Klein provides joy and fun to all children. It is one of the largest manufacturers of educational toys.
The Klein educational toys are high quality and want to collaborate in the growth of children to develop their creativity, imagination and curiosity.
The Klein educational toys encourage children in their social, practical, emotional and intellectual growth.