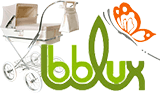 Bebelux
Bebelux brand was born more than 25 years. The factory is located in Andoain, Guipuzcoa province, Spain. They are dedicated to the design and manufacture of toys and childcare items.

Prams and pushchairs Bebelux toy brand are exact replicas of the English style. They are manufactured using traditional methods with the same production processes. The materials are of very high quality.

All toys are manufactured in Spain.