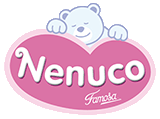 Nenuco
Nenuco is the most popular baby doll Famosa brand. Was born in 1977 and has conquered the hearts of children and parental.
Nenuco does not only have dolls, it also has clothes and accessories with which the children will be can play to repeat their daily routines like as eating, dressing ... as well as playing to the mothers and the dads and imitate the adult world.
A whole world of games for children from 10 months onwards!