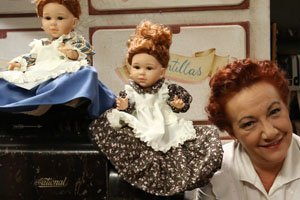 Doloretes - 42 cm (Series: El Secreto de Puente Viejo)
Doloretes is the doll that appears on the popular Spanish series "El Secreto de Puente Viejo" broadcast on the "Antena 3" TV channel.
"El Secreto de Puente Viejo" in English is "The Secret of Puente Viejo".
"Puente Viejo" is a fictional Spanish town (The English translation is "Old Bridge").
This pretty doll is inspired by Dolores Mirañar, character in this series represented by actress Maribel Ripoll, who represents the mad shopkeeper in the grocery store.
The money raised by Atresmedia by selling these dolls will be allocated entirely to "Programa de Asistencia Hospitalaria de la Fundación Atresmedia", which provides assistance to hospitalized children.