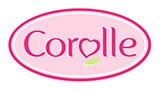 Corolle
Since 1979, the French Corolle brand designs dolls and accessories that pass from generation to generation and is distinguished worldwide for its commitment of quality.
They are manufactured in Loire Valley (France) with very rigorous tests and fulfilling all the norms of security of Europe and the United States.
The products of Corolle brand transmit magical moments through an emotion, a smell...
Enjoy Corolle products with us!
There are no products matching the selection.