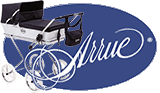 Arrue
Arrue brand has been on the market since 1945. They are specialized in making prams and pushchairs for babies.
Has a line of toy prams so girls walk their dolls with their moms and their younger siblings. This line is called
Prestigio Junior
.
These toy prams are a true replica of the original classic Arrue. They are made by Arrue with the same quality as their original prams and using the best materials and finishes possible.
For several generations the Arrue pram for dolls has become a childhood memory, a favorite toy of the household's little ones.
Buy doll prams at DollsAndDolls! Your doll online shop.
In our website you will also find
classic prams of Bebelux
and
modern prams Bayer Chic 2000
.