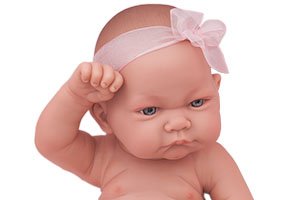 Antonio Juan Dolls
Antonio Juan dolls are known for their tenderness.
You will find them with soft body or full vinyl body. Vinyl bodies are manufactured sexed, for a more realistic doll. Soft bodies wear a mechanism inside. There are two types of mechanism: If you take away the pacifier to some dolls, they cry. Others wear a pressure mechanism, ie, you must press his body to sound, by babbling if they are babies, and the rest say "Mamá, Papá" and laugh (Translated from Spanish: "Mom, Dad").
There are sizes from 26 to 55 centimeters.
Cheeks, fleshy parts, tummy, are characteristic of Antonio Juan babies, being the weakness of many girls and moms. Its sweetness is irresistible.
Some babies are made with open eyes and other with eyes closed, but in any case, his face will captivate you.
Also discover on our website the clothes and accessories for these dolls.