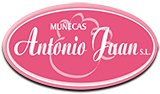 Antonio Juan
Antonio Juan Dolls was founded in 1958 in the valley of the Hoya de Castalla, localised in the region of Hoya de Alcoy, province of Alicante, Valencian Comuntity, Spain.
The industry in Hoya de Castalla is distinguished traditionally because the dolls and toys manufacturing since the last years of the XIX century.

Antonio Juan Dolls is a modest familiar company where four toy manufacturers generations have taken part in, which hasn't stopped growing in a global referent.
The company founder was Antonio Juan, and today the manager is his son Marco Antonio Juan.

The Antonio Juan brand was relaunched due to Leonor doll manufacturing (eldest daughter of the Princes of Asturias, now kings of Spain), becoming a social and media phenomenon without precedents in Spain.